Industrial rope access or commercial abseiling has earned worldwide reputation for its safe, fast and economical way of accessing buildings and structures. At Safetek, we have a wealth of knowledge working on ropes.
Height Safety Installations
We provide height safety installation for most types of fall protection systems. These include rope access and fall arrest anchor points, horizontal and vertical lifelines, guard rails, platforms, and caged ladders.
Abseiling down the buildings, we often come across building maintenance issues the building managers are unaware of. That is, until they become evident from the ground which can be too late. We are a 'one-stop shop' for all building maintenance tasks.
At Safetek have an experienced team of rope access professionals skilled in all facets of building maintenance, height safety installations and cleaning.
We emphasise on customer service and quality, guaranteeing you are with us from start to finish.
Fully licensed and certified installers; so you can trust that we'll get the job done right.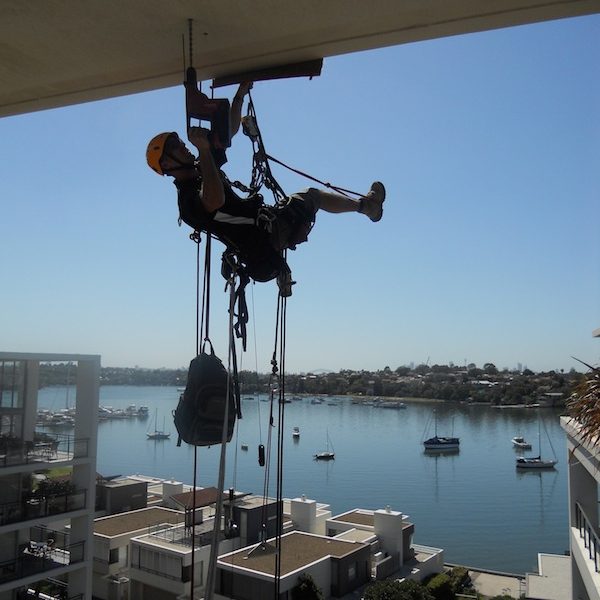 25 years of experience under our belt. We have tackled all types of interesting jobs thrown at us.
A one stop shop for any task at height. From engineering to manufacturing and more.
I can confirm that all Safetek staff had approached and handled the job on a very high professional level with a particular attention to safety.
I was highly impressed with the way Safetek handled the job at Holiday Inn Sydney Airport.
- Ian Pirodon, Holiday Inn Sydney Airport
We found the team at Safetek to be efficient in all areas of window cleaning,
sealing and when it came to concrete repairs did so by gaining a full understanding with a facade report which they managed from start to finish.

- - The George Group
We have been using Safetek on our current site in Sydney for various abseiling jobs for over a year.
They offer one point of contact for many difficult access tasks such as maintenance, cleaning and installation of anchor points. Their knowledge of rope access industry and friendly attitude make them an ideal service provider we always like to engage.

- Tim Mason, Hindmarsh Construction